* AAUW SH is a 501(c)3 nonprofit organization *

Your committee to celebrate the 100th Anniversary of the 19th Amendment proudly announces that its Proclamation was read aloud by Mayor Scott Smith at the South Haven City Council meeting on June 15, 2020. Mayor Smith praised AAUW SH for our contributions to the community.
We also sent the Proclamation to our federal and state elected officials and it appeared in the June 21 edition of the South Haven Tribune.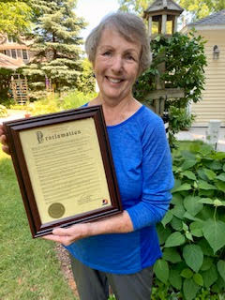 Elaine Stephens (holding framed Proclamation), Lois Schwartz, Ann Habicht, Jean Bevevino
Time to Pay Your Dues!
Dues for the next year, July 1, 2020 – June 30, 2021 are $85 (includes National, State and local membership) and are now being accepted. Appreciated also are donations to the Administrative, Scholarship or Program Funds. Your contributions will ensure continued funding of programs and activities planned for the coming year…please indicate on the memo line which fund you would like to support.
Checks can be mailed to our Treasurer, Meg Oberholtzer.
Meanwhile – be safe, be well, and take care of each other!
A Toast to You, Our Members!
The 2020 board members would like to thank you for your membership,
both new members and veteran members alike.
We would like to toast past, current, and future committee and interest group
members because your commitment gets the work done.
We would like to toast our members generous spirit, because of your fiscal generosity we can afford to invest in meaningful projects that empower girls
and women.
So, as we live through this unique and unpredictable time in history, let us raise
our glasses to our collective health, the work we do, and the way we do it…
generously, thoughtfully, respectfully.
Be proud of your membership in AAUW South Haven.
'Sisters, Sisters' – Song for the
100th Anniversary of the 19th Amendment
At our recent 2020 Annual Meeting, Lois Schwartz shared with us a song she wrote, adapted to the tune from the song 'Sisters' in White Christmas, performed by Rosemary Clooney and Vera Allen (as well as by Bing Crosby and Danny Kaye. In writing this tune, Lois pulled in a number of important historical references. Please click on the link below for the words to this song, as well as some of her inspiration. Thank you, Lois!
2020 Strategic Plan
Your AAUW SH Board recently embarked on a strategic planning process to identify the organization's goals and activities that will help us best implement our mission in a way that is relevant for our community. The result of this lengthy conversation is our 2020 Strategic Plan. Please take a few moments to download this important document by clicking on the hyperlink below and contact Sharon or Kathy if you have questions or feedback.
AAUW South Haven Strategic Plan 2020
2020 Challenge Update
Dear AAUW SH Sisters,
Our hearts are filled with gratitude for your kind and generous donations during this difficult time. Our hearts also ache for the uncertainties and greater needs faced by young women graduating from high school, and women trying to better their lives through education at our community college. Yet, we are hopeful that the resiliency women have always demonstrated will keep them on their paths to reach their goals.
Though COVID-19 has disrupted life and forced us to distance ourselves from family and friends, our commitment to improve the lives of other women remains strong. Our 100-day 2020 Scholarship Challenge, celebrating the women who pioneered and put themselves on the front lines to achieve passage of the 19th Amendment to the U.S. Constitution, has just passed its mid-point with amazing results. The collective efforts of 55 members have thus far yielded $11,590.
We greatly appreciate the generosity of:
Delores Atkins                                    Ann Habicht                                        Meg Oberholtzer
Maureen Baskell                               Nancy Hendrickson                            Sandy Olsen
Jean Bevevino                                   Helen Hoagland                                  Barb Pellegrini
Jan Blaising                                        Cindy Hoorn                                        Judy Pollack
Doreen Buresch-Zoellick                 Nancy Kayse                                       Vicki Purcell
Tory Burrows                                    Edna Kent                                           Lisa Rostar
Barb Calhoun                                   Elaine Kitchin                                      Lois Schwartz
Mary Lou Callan                               Colette Krueger                                 Margaret Sleeper
Judy Chapman                                  Margery Lampe                                 Liz Smith
Deborah Correnti                             Julie Leavitt                                        Elaine Stephens
Sue Cunningham                              Bernie Lopata                                   Kathy Straits
Kathy Dascenzo                                Julie Ludwig                                       Mary Tobin
JoAnn Flowers                                  Mary Sue Lyon                                   Bridget Tolpa
Elaine Fluck                                       Debbie Mellein                                   Janice Varney
Teresa Gibbons                                Patty Meyer                                        Lynda Warshawsky
Samantha Gignac                            Peggy Murnighan                               Kay Whale
Judy Graff                                          Jo Muszkiewicz                                   Susie Yule
Melinda Gruber                               Maureen Nugent                                Marla Zwolan
Sharon Guiltinan
The 2020 Scholarship Challenge continues until June 10. If you are able to help – with any amount – please send your gift to Treasurer Meg Oberholtzer.
With warm wishes for good health for you and your loved ones,
Sharon Guiltinan & Kathy Dascenzo, Co-Presidents
Donation & Grants Committee: Judy Graff, Nancy Kayse, Bernie Lopata, Patty Meyer, Lois Schwartz, Elaine Stephens and Bridget Tolpa,