* AAUW SH is a 501(c)3 nonprofit organization
Pillow Potluck Party
Mark your calendars for September 16 for the AAUW annual Fall picnic. This year it will be held at the South Haven American Legion from 5:00 PM to 7:00 PM. Sloppy Joes will be provided. Cost will be $10 per person. Please bring a dish to pass. Since only American Legion members can purchase alcohol, we will be selling tickets for $2.75 per ticket at the door. Guests are welcome.
We will also be collecting pillows for Sylvia's Place. You may bring your donated pillows to the picnic or deliver them to Kathy Straits at 36 Delaware Ct., South Haven, MI.
Evites will have been sent out the week of August 23rd. Please have your payments and RSVP submitted by September 11.
Hope to see you all on September 16th!
Golf Outing
The AAUW Golfers are looking forward to playing with the South Haven High School Girls' Gold Team. This multigenerational fun golf scramble will be held on September 29th. Our ladies are so looking forward to play with the girls' golf team again.
Candidate Forum
This year's Candidate Forum will be September 30, 2021. It will feature the six candidates running for office in the City of South Haven. Two candidates are running for Mayor: incumbent Mayor Scott Smith and Ahmmad Goodwin. There are two candidates for Ward 2: Wendy Onuki and Kam Daughtery. Joe Reeser, current Ward 1 Councilperson,  and George Sleeper, current Ward 3 Councilperson, will also be joining the event. Both are running unopposed.
Current AAUW SH member, Dr. Melinda Grueber, will serve as our moderator again this year. We are fortunate to have an experienced moderator in our group.
We encourage all AAUW SH members to join us in person or via Zoom for this event. The Zoom link will be released to all members a week before the event.
If you would like to submit questions for the candidates, please email them to southhavenaauw@gmail.com prior to the forum.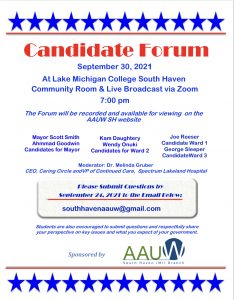 AAUW Book Sale Results
THANK YOU to all AAUW South Haven members who worked so hard to make our 2021 Book Sale a success! The two-day sale made a profit of $7030.98. Combined with the $800.55 we earned at the May sale of children's books, our efforts raised $7837.98 for scholarships.
It was clear that the public was glad to have the sale return after cancelling it in 2020. A steady
stream of people, most of whom are annual shoppers, sorted through two years' worth of books and left with their arms full. Again and again, shoppers commented how much they had missed the sale and how glad they were that we were back.
From sorting books to set-up to sales to clean-up, this event requires lots of hands and could not happen without the support of AAUW volunteers. See you next year!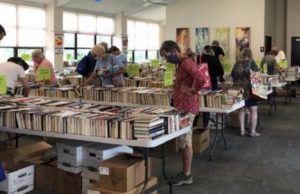 Announcing Our Newest Scholarship: The Achievement Award
As a result of the 2020 internal fundraising campaign, we are able to award a new AAUW SH scholarship. Any 2020 or 2021 scholarship recipient who finishes her first year of college with a minimum 3.0 GPA will receive a $1500 Achievement Award to help offset her 2022 college expenses.
After being named to the Dean's List at Grand Valley State University, nursing major and 2020 Pathfinder Award winner Alondra Gonzalez is the first recipient of the AAUW SH Achievement Award. Congratulations, Alondra!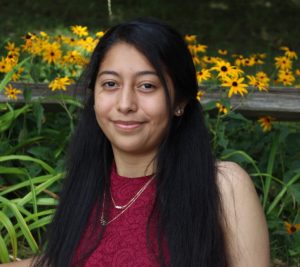 A Conversation with Esteemed Michigan Women Judges  
by Elaine Stephens
Chief Justice of the Michigan Supreme Court Bridget Mary McCormack and Chief Judge of the Van Buren Courts, AAUW-SH member Kathleen Brickley were distinguished guests for our Ruth Bader Ginsberg Speaker Series on March 19, 2021.  Moderator Lois Schwartz engaged them in a lively, informative, and inspiring conversation beginning with how their personal life stories led to their current positions. The two judges described some of their challenges in a traditional white male dominated judicial system and their initiatives towards a cultural shift in how the judicial system operates.  Their mission is to inculcate a dedication to service to the public as a norm and to promoting diversity, equity, and inclusion in the workplace. They spoke of the current worrisome atmosphere of hate and distrust that threatens the justice system and individuals who serve in it.
McCormack and Brickley explained the complexities of addressing implicit bias and systemic racism and the importance of people's faith in a fair and just system. Their mutual respect and admiration for each other permeated the discussion. They share a belief that judges have an ethical commitment to take a leadership role in addressing societal ills.
Close to 60 members viewed the presentation, including guests from the leadership of AAUW Michigan and AAUW Wyandotte-Downriver.  Among the questions raised by participants were how to achieve more women judges, advice for young women seeking law careers, and the impact of ERA. Thank you to Lois Schwartz, Jean Bevevino, and Amy Nichols for a highly successful event.
The RBG Speakers Series podcast with Justice McCormack and Judge Brickley is available using this link:  https://www.buzzsprout.com/1740983/8201848
A thank you from Chief Justice Bridget McCormack:  From Chief Justice Bridget McCormack
2020 Strategic Plan
Your AAUW SH Board recently embarked on a strategic planning process to identify the organization's goals and activities that will help us best implement our mission in a way that is relevant for our community. The result of this lengthy conversation is our 2020 Strategic Plan. Please take a few moments to download this important document by clicking on the hyperlink below and contact Sharon or Kathy if you have questions or feedback.
AAUW South Haven Strategic Plan 2020