Mission
To advance gender equality for women and girls through research, education, and advocacy. read more
South Haven AAUW Members
We invite you to participate in this special Challenge
2020 Strategic Plan
Your AAUW SH Board recently embarked on a strategic planning process to identify the organization's goals and activities that will help us best implement our mission in a way that is relevant for our community. The result of this lengthy conversation is our 2020 Strategic Plan. Please take a few moments to download this important document by clicking on the hyperlink below and contact Sharon or Kathy if you have suggestions or feedback.
AAUW South Haven Strategic Plan 2020
Save the Date!
 We are excited to announce that Chief Justice Bridget McCormack of the Michigan Supreme Court will speak on April 27, 2020 at 7:30 p.m. in the ILC of the South Haven High School. AAUW member and Chief Judge of the 36th Circuit Court in Van Buren County Kathleen Brickley will introduce her and participate in a conversation with the audience. This community event is part of our celebration of the 100th Anniversary of the right to vote for American women. Our thanks to Judy Graff and committee members Elaine Stephens, Lois Schwartz, Ann Habicht, and Jean Bevevino for their work on this important event.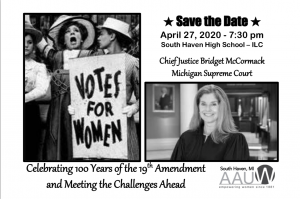 Your 2019 AAUW SH Board of Directors

Back Row: Julie Leavitt, Kathy Dascenzo, Bridget Tolpa, Meg Oberholtzer, Liz Smith, Maureen Nugent
Middle Row: Marla Zwolan, Teresa Gibbons, Jean Bevevino, Lisa Rostar
Front Row: Cindy Hoorn, Mary Lou Callan, Lois Schwartz, Sharon Guiltinan, Kathy Straits
2019 Scholarship Recipients
On June 6, 2019 at the annual Spring Tea, our organization honored this year's scholarship recipients. Congratulations to all of these deserving young women!
Pauline Chappell Scholarships
Taylor Vincent
Jazmine Coleman
Dick Olsen Memorial Scholarship
Chloe Kinney
Lee Kamnikar Memorial Scholarship
Olivia Price
Lake Michigan College Recipients
Kimberly Carter
April Filbrandt
Concepcion Ortiz-Morales
AAUW Work Smart Online Workshop is the result of AAUW's efforts and a $500,000 grant from the Coca Cola Company in August 2018.  AAUW designed the online tool to support, educate, and assist women in their pursuit of pay equity and economic security.  The workshop addresses the challenging and often overwhelming process of salary negotiations, employment interviews, and career advancement discussions.  The workshop also encourages participants to gain professional confidence through self-evaluation.  The successful self-evaluation process results in the acknowledgement of skills, experience and expertise.  Learning how to respect and project professional worth is an essential step in earning an equitable salary and/or being hired/promoted into a deserved position.
AAUW has committed to 100,000 women registering on the Work Smart Online Workshop by August 2019.  If this 100,000 registered participant goal is met, AAUW will be eligible for a $500,000 renewal grant from the Coca Cola Company.
AAUW South Haven is a large affiliate and, by registering online, our participation and encouragement of others will make a significant difference toward AAUW successfully achieving this worthy goal.
AAUW understands that many of its members are retired, but also knows that we are women of influence.  We can encourage the women in our lives to register and take advantage of this well-designed teaching tool.  Participating in the workshop yourself allows you the ability to encourage from a position of firsthand knowledge. Please register today!
Governor Gretchen Whitmer declares April 2, 2019
Equal Pay Day in Michigan 
"Equal pay is not only a women's issue. This is an economic issue that is hurting hardworking families in our state," said Whitmer. "When we ensure all women in Michigan can earn the same amount as their male counterparts for doing the same job, we can help hardworking families get ahead, grow our economy, and attract the business and talent we need to compete."
According to the National Partnership for Women & Families, women in Michigan's workforce make 78 cents for every dollar that men make for doing the same job. African American women make 63 cents for every dollar, Latinas make 54 cents and Asian women make 87 cents.
Women's History Month – March 2019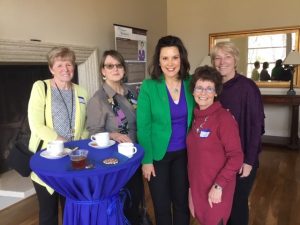 Jean Bevevino, Julie Ludwig, Lois Schwartz, and Kathy Dascenzo we're invited to join Governor Gretchen Whitmer at the Governor's Residence on March 27th.  Nearly 100 women, representing various Michigan non-profit organizations, were part of a Women's History Month event celebrating the contributions of women's time, talents, and service  which continue to improve Michigan.