Mission
To advance equity for women and girls through advocacy, education, philanthropy, and research. read more
SOUTH HAVEN AAUW 
Just as those women in 1947 found ways to espouse the mission first articulated in 1881, we in 2017 continue in that tradition.


2018 South Haven AAUW Annual Book Sale
The Book Sale takes place on Friday, August 10and Saturday, August 11at the First Congregational Church, 651 Phoenix Street, South Haven.
Admission to the book sale is free, but for those who want the first chance to purchase books, we offer Early Bird admission from 8-9 AM on Friday for $15. General admission will continue from 9-5 on Friday, and 9-2 on Saturday.  On Saturday, shoppers also have the opportunity to purchase a Bag of Books for $10, a second for $5, and the third is free!
Book donation barrels will be available at the following locations June 20-August 1: Menard's, Barden's Farm Market, Bronson/South Haven Wellness Center, First Congregational Church, and Wolverine Hardware.
Book Sale Location
First Congregational Church, 651 Phoenix Street
AAUW South Haven Spring Tea 
Honoring our 2018 Scholarship Recipients  
Pictured below are Erica May Jacqueline Solis, Anna Nichols, Jenna Dee,  and Allison Uckele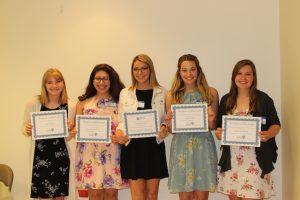 Congratulations to the recipients of the 2018
Chappell Scholarships Recipients
Jacqueline Solis
Anna Nichols
Erica May
The South Haven Chapter of the AAUW is proud to offer senior girls at South Haven High School a college scholarship.  It is a means to continue our dedication to the causes of life long education and equity for girls and women.  This scholarship was begun as a memorial for Pauline Chappell, one of our charter members.  Our scholarships are funded by our annual  book sale.
Memorial Scholarships 
This Year we sadly lost three of our dear members and  we are proud to offer three scholarships in memory of these three vibrant members who passed away in 2017.
The Betty Davis Memorial Scholarship
Jenna Dee
The Lee Kamnikar Memorial Scholarship
Hayley Krieger
The Elizabeth Miller Memorial Scholarship
Allison Uckele
Annette Bacehowski Memorial Scholarship  Lake Michigan College
Tamara Garcia
2017 Lake Michigan College Recipients
Nicole May
Wenona  Campbell
The South Haven Chapter of the AAUW is also proud to offer women at Lake Michigan College a scholarship for returning to school to further their education.
Our Members showing their support