Mission
To advance gender equality for women and girls through research, education, and advocacy. read more
2019 AAUW SH Spring Tea
Honoring Our Scholarship Winners
Thursday, June 6, 2019
3:00 p.m. – 5:00 p.m.
Peace Lutheran Church
06321 Blue Star Memorial Highway
Guests Welcome
No RSVP Necessary
SH Committees & Interest Groups
Members: Please review the following information


prior to the

Spring Tea on June 6th

.

There are many opportunities to get more involved in YOUR organization!
To reach out to one of these groups to volunteer or get more information,
please send a message to:  southhavenaauw@gmail.com


Committees
Communications 

Committee

 
Purpose – To support AAUW SH members and committees in publicizing events and activities relevant to AAUW's mission and goals. 
Primary Activities – Work with organizers to develop a complete list of deliverables and a firm timeline; work with the rough content to develop a clear and consistent message; develop publicity materials (posters, flyers, ads, radio segments, web postings, etc.); assist in posting materials (online and otherwise) as necessary; work with local news stations to arrange the necessary publicity.
Specific volunteer needs and time commitment required–
Committee Members – experience with writing, marketing, design or working with representatives of the media is desirable but not necessary; all you need is interest and a willingness to help! Time commitment varies as we support activities of other committees or groups, but rarely more than a few hours a month.
Contacts – Co-chairpersons: Cindy Hoorn & Liz Smith
Scholarship Committee
Purpose – To educate, mentor and financially support Van Buren and Allegan County women in their pursuit of higher education.
Specific volunteer needs and time commitment required –
Mentors– Work independently with mentees as needed, approximately once a month, to provide support and encouragement.Seeking volunteers interested in not only serving as mentors but also in developing the mentor program.
Educators– Occasionally facilitate discussion with or give presentations to small groups of women. Seeking members willing to share their experience/expertise in time management, finance and budgeting, stress management, study skills, writing, organizing and other relevant topics.
Scholarship Application Team– Applications are reviewed and interviews are conducted during the first two weeks of April.Only members who do not know the applicants and who are available to attend all candidate interviews are eligible to serve on the Application Review Team. 
Contact –  Chairperson: Teresa Gibbons
Book Sale Committee
Purpose – To raise funds for college scholarships for local young women
Primary Activities – collect, sort and sell gently used books
Specific volunteer needs and time commitment required –
Collecting booksfrom local organizations and delivering them to the First Congregational Church: 1 or 2 times per week
Sorting booksby genre once a week for about 1 hour every Wednesday morning starting late June until early August.
Setting up books for the salein the church's community room; approximately 2 hours
Working during the book salefor 3-hour shift
Book sale clean-upfor approximately 2 hours
Contact – Chairperson: Elaine Kitchin
Public Policy Committee
Purpose – To serve as a resource for the AAUW-SH membership-at-large on the issues as outlined in the National AAUW Public Policy Priorities; address issues at the local, state and national levels through contacts with our elected officials and provide avenues for action by:
Advocating for high-quality Public Education-adequate funding, promoting gender fairness, equity and diversity, STEM education, comprehensive sex education and support of Title IX.
Advocating for equality, civil rights and economic self-sufficiency for women.
Advocating for women's health literacy, well-being and reproductive self-determination.
Promoting citizen participation in our democratic society.
Primary activities – Members share an interest in engagement on public issues, are willing to research topics, share findings with committee and collaborate to propose appropriate action. As a committee we:
Keep abreast of issues affecting women and girls through contact with MI AAUW, National AAUW and independent research.
Monitor legislation and respond as needed via Rapid Responder network.
Sub-committees focus on specific issues – gun violence, pay equity, women's health, literacy, school curriculum, school funding, reproductive self-determination, domestic violence and human trafficking, LEBTIQ diversity rights, Title IX and gender fairness.
Meet and correspond with local and elected officials.
Organize and staff community candidate forums before city, state or national elections.
Conduct voter education and registration at South Haven High School and SH branch of Lake Michigan College.
Time commitment required – AAUW SH Public Policy Committees are held on the third Wednesday of the month at the South Haven Memorial Library from 3:00 to 5:00 p.m.  (No meetings in June, July or August.)  Subcommittee members continue to monitor legislation and inform PPC and Rapid Responders if action is necessary.
Contacts – Co-chairpersons: Julie Leavitt & Julie Ludwig
Rapid Responders (PPC Subcommittee)
Purpose – Rapid Responders (RR) is an advocacy initiative of our Public Policy Committee. The Goal is to increase the amount of contact, primarily at the state level, between AAUW SH members and our elected officials about proposed legislation aligned with AAUW national and state priorities.
Primary Activities – Respond to Rapid Responders email alerts with phone call, email or letter – contact information provided for pertinent elected officials.  RR alert gives you concise information on specific legislation and you decide what to say; personal stories are more effective.
Specific volunteer needs and time commitment required – Seeking women who want to make their voices heard on important legislation with minimal individual time commitment and no meetings. Typical number of alerts has been six per year.
Contact – Coordinator:  Elaine Stephens
Domestic Violence Prevention (PPC Subcommittee)
Purpose – Advocate and help women in domestic abuse and violence situations and to help those who have domestic dangers
Primary activities – Support Sylvia's Placein Allegan by food and pillow collection.  Support Domestic Violence Coalitionin Paw Paw by food and personal care item collection.  Looking for other opportunities in the community where we can help with a need.
Specific volunteer needs and time commitment required – We welcome members who are community minded and seek to help those and their families who are escaping domestic violence.  We have two meetings a year; project time commitment varies but usually less than 6 hours a year.
Contact – Coordinator: Mary Lou Callan
Women's Health Resources (PPC Subcommittee)
Purpose – To promote health literacy and availability of resources for women and families.
Primary Activities – Presently initiating a collaboration with United Way to publicize the health and social service hotline 211 in Van Buren County.  Also on our agenda is finding a way to improve access to reproductive health for women in our area.
Time commitment required – Monthly meetings as needed with opportunities to help in formation, gathering and distribution on your own time schedule.
Contact – Coordinator:  Linda Garrison
Donations & Grants Committee
Purpose – To obtain funds in support of the mission of AAUW SH
Primary activities – Research and apply for grants; generate ideas for membership gifts and other fundraising activities adhering to 501©3 nonprofit status and specific intentions of donors.  Work in partnership with the Board of Directors, members, and community to create an enhanced understanding of the purpose and benefits of 501©3 donations.
Committee membership – Bridget Tolpa, Chair; Judy Graff, Nancy Kayse, Bernie Lopata, Lois Swartz, and Elaine Stephens.  The chair is a voting member of the AAUW SH Board and the Treasurer serves as a liaison to our Board.  At present, no new members are required but suggestions and input from the affiliate-wide membership are encouraged and welcomed.
Meetings – The committee meets on the fourth Thursday of alternating months at 10:15 a.m. in  the library.
Contact – Chairperson: Bridget Tolpa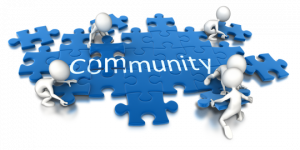 Community Outreach
Open Door
Purpose – To cook and serve food at The Open Door Community Dinner at the Methodist Church on the fifth Tuesday of the month.
Primary activities – Cooks plan and cook the community meal. Servers prep salads and drinks and serve the dinner.  Everyone interacts with the guests and does dining room clean up by sweeping and wiping down the table.  No dish cleaning required.
Specific volunteer needs and time commitment required – Cooks and servers: We average cooking and serving approximately five times a year.  You can volunteer for one night or every time. Cooks arrive in the afternoon to cook and servers arrive at 5:30pm.  We are usually finished by 7 pm.
Contact – Peggy Murnighan
HOPE Teen Dinners
Purpose – To provide dinners at Parenting Support Group meetings
Activities – Prepare anddeliver a salad, main dish, and dessert the first Tuesday of each month.
Specific volunteer needs and time commitment required – Need 3 people each month to prepare one of courses and deliver to the HOPE Parent Resource Center, 901 South Bailey Ave, SH
Contact – Judy Chapman
Blessings in a Backpack
Purpose – To provide supplemental nutrition to elementary students in need by sending home a weekly bag of healthy food.
Primary Activities – Pack bags of food at Maple Grove Elementary School on Friday (occasionally Thursday) afternoons during the school year. 
Time commitment required – Members who volunteer are placed on a call list and will be contacted well in advance to see if they can pack on a Friday afternoon.  Packing takes about ½ to 1 hour. 
Contact – Sue Cunningham
Interest Groups
Golf Wednesdays at Hawkshead
Purpose –To enjoy a casual game of golf with an incredible group of women.
Commitment – The only requirement is to have a good time.  An email is sent each week asking that you declare if you are playing the following Wednesday.
When – Every Wednesday at 2:30 p.m.
What– 9 holes of golf
Where – Hawks Head Golf Links
Cost – $20 includes golf, cart and range balls
Contact – Nancy Kayse
Afternoon Book Group
AAUW SH Afternoon Book Group meets on the 4thMonday at 1:00 p.m. January through November at various members' homes. Books that members have read and think would make a good discussion volunteer to chair that book's discussion. Having read the book is not a prerequisite for attending (or an excuse).  New members are always welcome.
Contact – Diane Schlanser
Evening Book Groups
There are two evening book groups.  One group meets on the second Wednesday of each month and the other group meets on the second Thursday of each month.  Both groups meet in members' homes at 7:00 p.m. New members are always welcome.
Contacts –
Wednesday group: Carol Tidwell 
Thursday group: Mary Tobin 
Gourmet Dinner Group
Purpose – To get to know new people and try new recipes.  Husband or partner/friends are included.  We have a lot of fun experimenting with new recipes  (ethnic, old favorites, or anything you like) submitted by members of the Dinner Group.
Activities – All members who participate are divided into groups, usually 4 or 5 couples per group.  The groups change for each dinner.  Recipes are provided.  You will be the host of one of the evenings.  The host provides the main dish.  Others in that group will bring whichever side dish the host assigns from the recipes for that night.  Each couple will also provide a bottle of wine or beverage of their choice.  There is a substitute list in case you can't make that dinner.  You will receive a list of all participating members and subs as well as all the menus and recipes at a brief meeting in August. 
Time commitment – Dinners take place on the first Sunday of the following months: September, October, November and May – a total of 4 dinners.  You are also asked to attend a brief meeting in August to get your packet and have questions answered.
Contact – Sue Cunningham 
Bridge Group
Purpose – fun…we talk and laugh a lot
Time commitment –
Meetings: second and fourth Wednesdays of the month
Time: 1-4 hours (we adjust to schedules); a member can play as many or as few times as she wishes. Mary calls each month to schedule.
Contact – Mary Pietenpol
Writing Group 2.0
Purpose – To create, share and enjoy writing.  No experience necessary.  New members welcome.
Activities – Monthly sharing of writing, often on a shared topic or work.  May be fiction, nonfiction, poetry, drama, or author's choice.
Time commitment – varies
Contact – Kathy Dascenzo 
Women's History Group (Silver Bag Ladies)
Purpose– To present lives of historical and living women through reader's theatre programs, generally a half hour in length.
Activities and time commitment – We are always looking for new actors! One rehearsal and one performance.  If invited to do more performances, replacement cast may be needed.
Contact – Elaine Fluck
Please Join the Michigan Equal Pay Coalition
for the 2019 Equal Pay Lobby Day!
Date: Wednesday, May 22, 2019
Location: Central United Methodist Church, 215 N. Capitol Avenue, Lansing, MI 48933
Registration Opens: 9:30 a.m.
Event Begins: 10:00 a.m.
For more information, see our Equal Pay Day page, or click here.
AAUW Work Smart Online Workshop is the result of AAUW's efforts and a $500,000 grant from the Coca Cola Company in August 2018.  AAUW designed the online tool to support, educate, and assist women in their pursuit of pay equity and economic security.  The workshop addresses the challenging and often overwhelming process of salary negotiations, employment interviews, and career advancement discussions.  The workshop also encourages participants to gain professional confidence through self-evaluation.  The successful self-evaluation process results in the acknowledgement of skills, experience and expertise.  Learning how to respect and project professional worth is an essential step in earning an equitable salary and/or being hired/promoted into a deserved position.
AAUW has committed to 100,000 women registering on the Work Smart Online Workshop by August 2019.  If this 100,000 registered participant goal is met, AAUW will be eligible for a $500,000 renewal grant from the Coca Cola Company.
AAUW South Haven is a large affiliate and, by registering online, our participation and encouragement of others will make a significant difference toward AAUW successfully achieving this worthy goal.
AAUW understands that many of its members are retired, but also knows that we are women of influence.  We can encourage the women in our lives to register and take advantage of this well-designed teaching tool.  Participating in the workshop yourself allows you the ability to encourage from a position of firsthand knowledge. Please register today!
Governor Gretchen Whitmer declares April 2, 2019
Equal Pay Day in Michigan 
"Equal pay is not only a women's issue. This is an economic issue that is hurting hardworking families in our state," said Whitmer. "When we ensure all women in Michigan can earn the same amount as their male counterparts for doing the same job, we can help hardworking families get ahead, grow our economy, and attract the business and talent we need to compete."
According to the National Partnership for Women & Families, women in Michigan's workforce make 78 cents for every dollar that men make for doing the same job. African American women make 63 cents for every dollar, Latinas make 54 cents and Asian women make 87 cents.
Women's History Month – March 2019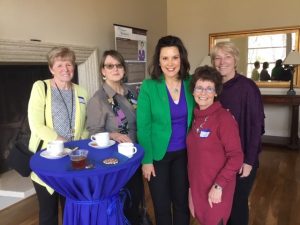 Jean Bevevino, Julie Ludwig, Lois Schwartz, and Kathy Dascenzo we're invited to join Governor Gretchen Whitmer at the Governor's Residence on March 27th.  Nearly 100 women, representing various Michigan non-profit organizations, were part of a Women's History Month event celebrating the contributions of women's time, talents, and service  which continue to improve Michigan.
Irene L. Starck Program Assists Young Women
in Achieving Their Educational Goals

 
Advancing equity for women and girls through advocacy, education, philanthropy, and research is the first line of AAUW's Mission Statement. Our annual scholarship program assists our scholarship recipients as they begin college careers, certification programs, or continue at LMC. As an organization, we have occasionally explored the possibility of offering AAUW SH scholarship recipients needed financial support beyond scholarships. This possibility has now become an exciting reality.
The AAUW SH Irene L. Starck Program Fund was initiated in April of 2018 with a generous $10,000 donation from Judy Graff. The fund is an effort to honor her mother's belief in the essential role of education as young women achieve their educational goals. Studies have found that keeping a college student in college can be challenging. Often female students find themselves stymied by various obstacles to their educational success. Unable to navigate these circumstances and overwhelmed, many young women stop attending school. The Irene L. Starck Program Fund's flexibility could assist a student through difficult times, keeping her on track to succeed. The fund is designed to provide flexible and immediate financial assistance program to young women enrolled in a degree/certificate program. 
The Irene L. Starck Program is currently being administered by Susan Torp (chair), Lois Schwartz, Judy Graff and Kathy Dascenzo. 
Initially, the ILSP Fund will work in tandem with SH AAUW's Mentor Program. Establishing a respectful trusting relationship between mentees (AAUW SH Scholarship winners) and their AAUW SH mentors is a priority of our newly formalized Mentor Program. 
Currently mentors are helping each other through group email conversations as this program "becomes itself". Understanding that the young women being mentored, "don't need another mother" but, instead, a committed role model willing to help guide each student toward achieving her goals was step one. Figuring out what our individual mentor/advocate roles need to be in order to ensure student success is an ongoing process. 
Having the patience to allow a mentor/mentee relationship to grow cannot be rushed but must be nurtured. The mentors are learning that being available for needed emotional support, giving nonjudgmental practical advice, providing encouragement and celebrating each student's success are the key elements to providing effective advice. Financial assistance is secondary to the establishment of trusting, caring, confidential relationships between each mentor and mentee. 
The mentor committee currently meets three times a year to review the program's effectiveness and to initiate new members. Becoming an AAUW SH mentor is an excellent way for members to become involved in AAUW SH.
2018 Candidate Forum
Over 500 community members attended our Candidate Form on October 18th.
Thank you to our community for attending our event.  We were very thankful to the Candidates for participating in our forum.  A special thanks to all of the South Haven AAUW members who organized this event and all our member who volunteered, making our candidate forum such a successful event.
The Truth Tour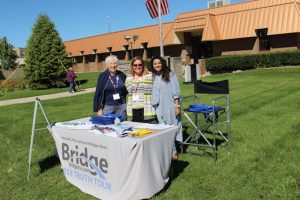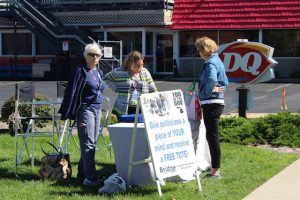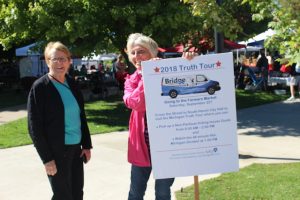 Michiganders interested in state issues were welcomed by SH AAUW members Mary Lou-Callan, co-president Kathy Dascenzo, JoAnn Flowers, Cindy Hoorn, Jackie McAninch, Mary Montgomery, Lois Schwartz, and Jeanne Van Zoeren as they visited  the  the Michigan Truth Tour in front of City Hall on Saturday, September 22. Visitors spoke with representatives from the Center for Michigan/Bridge Magazine who distributed a variety of pertinent materials. Playing an interactive game on the computer in which one assumed the role of governor making decisions on programs and funds demonstrated how easily we could run up a deficit and how challenging it is to balance the budget!
People working in many of the businesses in town were greatly appreciative of the Tote bags with voter education materials that were delivered to them by AAUW.  A double-sided single-sheet version of the AAUW research document on the pay gap, The Simple Truth, was also distributed. About thirty-five local citizens and AAUW members gathered in City Hall Chambers to attend the screening of the forty-eight minute documentary, Michigan Divided, and to participate in the guided discussion which followed. We are grateful to the city for providing the City Hall premises for this valuable undertaking. Thank you to all our members who contributed to its success.